DELBRIDGE RACING HIGHLIGHTS
Delbridge Racing's core business is to offer shares in racehorses, either unraced yearlings or proven horses, to clients and then manage the horse throughout its racing career on behalf of the syndicate of owners. We work closely with our trainers to select the right horses at the right value and turn that into racetrack success.
Since commencing in 2003 Delbridge Racing has been able to demonstrate that with a modest outlay our horses and owners can achieve great success on the race track.
Over nearly 10 years, 81% of Delbridge Racing syndicated horses have won at least one race, and nearly 40% of winners have been in city class races.
We have previously syndicated horses such as Group 3 winner Shamoline Warrior, Pakari Toa, two time Magic Millions Stayer's cup winner Drizzle, Georgia's Boy, Starry Eyed, Translation, Great Player, Ginspiel and Comic Echo who have all been city winners for their owners, plus Snake Gully cup winner Fiddes and Longstreet, the winner of 16 races plus recent winners Great De Here, Bernzigova, and Art and Whiskey.
In addition Delbridge Racing also support our owners in their breeding activites including breeding the listed winner Broadway Harmony and mutliple race winner Godspiel and Well Primed.
Delbridge Racing has had 34 individual horses to win at least one race and the deeds of some of our best performed horses are documented below. Each of these horses has provided great success and lots of fun to the many owners who have been involved with them. Their performances have set the benchmark by which we will measure future horses we syndicate, and these horses will be talked about and remembered fondly by all our owners in the years to come.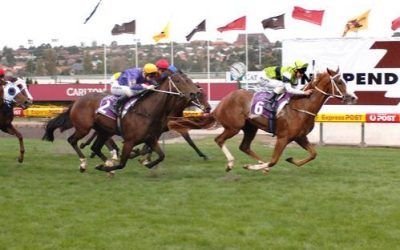 General 2006 Ginspiel – (Singspiel - Staying Alive filly) - arguably the most talented galloper that has graced the Delbridge Racing stables this classy filly won 3 races from only seven starts including a dominant win at Moonee Valley in Saturday 3-y-old fillies...